What to Look for in the Best Rear Shocks for Drag Racing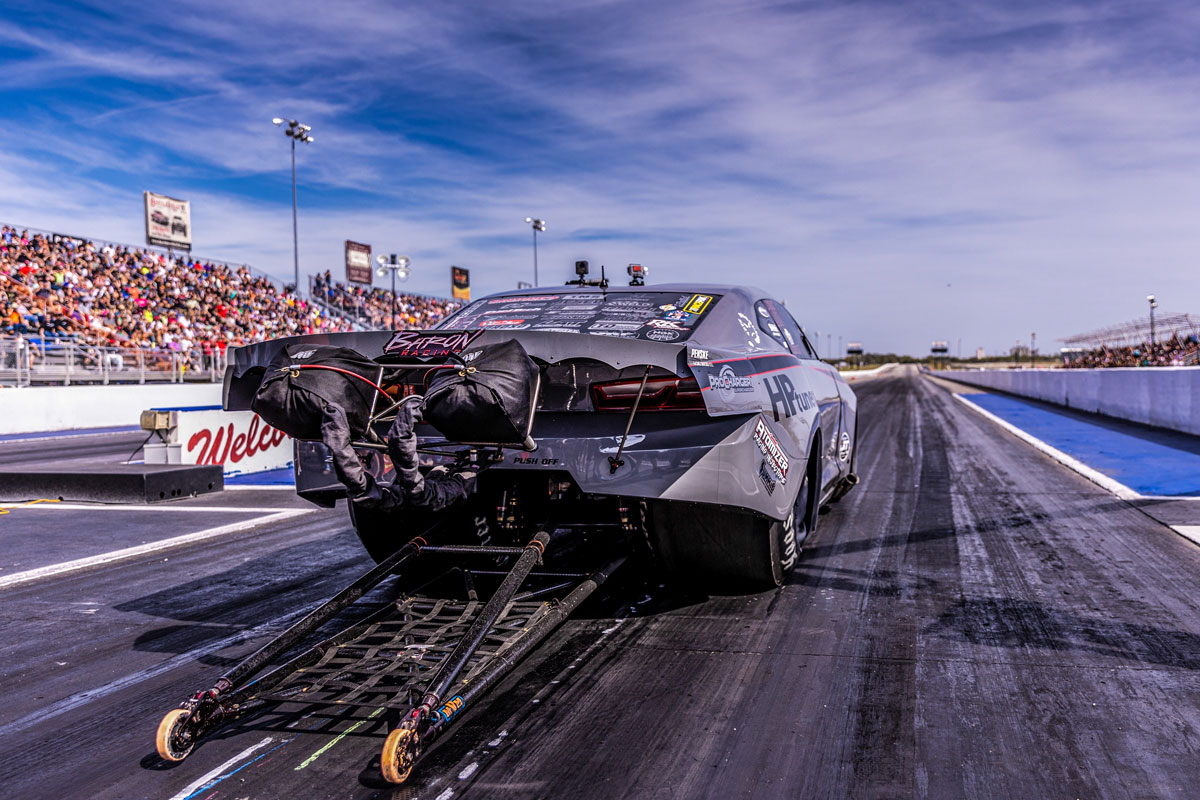 What's the difference between a car that wins a drag race and a car that doesn't? You're probably thinking speed and power, right? You're partly right.
But once you've maxed out what's under the hood, what's next?
Successful drag racers realize that the devil is in the details. Power only gets you so far; it's the little things that help you launch efficiently and keep traction make the difference and end up with you taking home the trophy and cash.
If you're dealing with problems like excessive wheel stand and limited weight transfer, you'll miss out on precious traction, and your opponent will nip you at the finish line.
Learn more about the Top 5 Issues Impacting Your Drag Racing Suspension Performance.
The Best Rear Shocks for Drag Racing
Navigating the shock options available in the racing world can be confusing territory.
Remember that the shocks you purchase should be customized to your car and driving preferences. If you have certain habits that change how your vehicle launches or handles, you need to factor those in.
With single, double, and triple adjustable shocks and various price points, which option will give you the most bang for your buck?
How Adjustable Do You Need Your Rear Shocks to Be?
Only you can answer how adjustable you need your shocks to be. Some factors will help you determine what you can afford and what you need.
Single-adjustable shocks
Single-adjustable shocks are inexpensive, but you can still maintain damper performance and improve response. They can fit many applications simply by changing their modular body cap and eyelets.
One knob adjusts both the rebound and compression of the shock simultaneously.
Single-adjustable shocks are an excellent option for streetcars but provide a limited tuning window, and drag applications need a larger tuning window or multiple adjustments to dial in performance.
Double-adjustable shocks
Double-adjustable shocks provide high-horsepower race cars the versatility of separate compression and rebound adjustments. Why is this important?
With more adjustment capability, you can tailor compression and rebound precisely how you want it. For example, with softer shocks at the front, your front end will come up easier, transferring weight to the back of the car and facilitating better traction of the rear wheels.
The ability to adjust compression and rebound independently means you can change the speed that the front of the car returns to its ride height, helping you maintain traction.
The same thought process applies to the back of your car. Rebound is what drives the tire into the ground fast and hard. But if your rear shock rebound is too stiff, you limit the amount of weight transferred to your rear tires, resulting in poor traction.
In turn, when the tire resists downward force and wants to come back up as you move forward, you can use compression to stop it from bouncing up like a basketball into the fender and keeping it planted to the surface of the track.
You require different rebound and compression settings to achieve both and dial in your suspension.
Your 60-foot time should be consistent. With more adjustments available, you can tune your shocks to be consistent for every pass.
Learn more about Are Your Double Adjustable Shocks Really "Double Adjustable"?
Triple-Adjustable Shocks
Triple-adjustable shocks are seen as the premium option for drag racing.
Pro Stock, Pro Mod, and Top Sportsman teams looking to compete at the highest level can dial in suspension settings. As well as separate compression and rebound settings, they also feature different high and low-speed compression adjustability making it easier to tune for the launch, track transitions, and down track.
High-speed adjustment settings help control the chassis at the launch and account for inconsistencies on the track. Low-speed helps apply power in between gear changes and during the run.
Triple-adjustable shocks are more suitable for drivers skilled at diagnosing and tuning suspension dynamics.
Are All Shocks Made Equal?
A great shock should be precise, resistant to fatigue, and durable. Whether you purchase and install single, double, or triple-adjustable shocks, you're not guaranteed an outstanding performance.
Is your shock company an industry leader on the cutting edge of damping innovation and design? Do the people designing and fitting your shocks have experience at the race track, in the shop, and solving problems?
You can ask these questions of the company you decide to purchase your shocks from to ensure you make the right choice.
Penske Racing Shocks Provide Options for Every Drag Racer
These 7500 Coil-Over Bracket Drag Shocks from Penske are high quality, American-made, and can be used in many applications. All Penske shocks are hand-built to order specifications, and they can also be adapted to be double-adjustable, giving you high-quality shocks for a fair price.
The 8760 Triple Adjustable version completes the set allowing you to choose based on your individual needs and affordability.
Single and Double-adjustable Penske shocks feature hard chromed steel shafts providing strength and low friction, lightweight, and durable aluminum components. They feature up to 40 clicks (more options available in the triple-adjustable version) of compression and rebound adjustments that allow fine-tuning for varying track conditions.
Let the Drag Experts Help
Establish a long relationship and take advantage of the S3 process, meaning you'll have Penske's support from figuring out the shocks you need, ordering them, setting them up, and continued support into race season and beyond.