What Brand Of Racing Shocks Is Right For Me?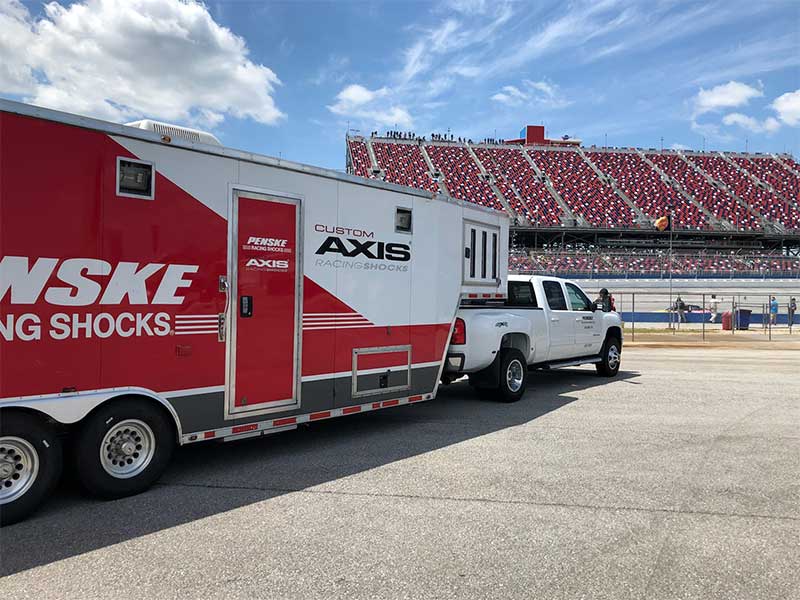 There are many different brands of racing shocks on the market these days, with prices all across the board. No one brand/type of racing shock is made or functions the same as the next, so it can be hard to decide which brand is right for you as a racer or rider. How are you supposed to know what to look for in the correct racing shock for you?
So, How to Know What Brand Of Racing Shocks Is Right For You?
Below are the top eight questions to ask before deciding to engage with a shock company and use its product. Prevent buyer's remorse and ask these questions to help ensure you're making the best investment.
1. What Racing Shock Is Right For Your Application?
As a racer/rider, you need to know that you're using the right racing shock for your application. Many brands specialize in specific applications such as off roading, short-track racing, production-based, and more. It's important to note that some brands do offer shocks for multiple applications or specializations. So, after analyzing the marketplace for your application (our recommended first step), how do you further determine which racing shock is the best for YOU? Let's narrow down some of the questions to ask when doing this necessary research.
2. Are You Getting What You Pay For In Your Racing Shock?
Let's cut to the chase. Many racing shocks aren't cheap. But, the higher price point is often driven by the quality of the shocks making the higher price worth it.
When researching, take a look at the quality of the racing shock itself, the technology behind it, whether they used billet machining, and closer tolerances, as this will yield more consistent performance.
3. Is Customer Support Available When You Need It?
Whether you're a pro or taking up racing/riding as a hobby, try to find a brand that lives up to the customer support standards you need. Giving them a call to see what kind of customer service they offer (in-person, phone call with an actual human or automated, etc.) will provide you with a good feel for how they will treat you as a customer if you choose to move forward.
Things to consider include:
Do they provide support pre-sale, helping you to find what you need and giving you the correct information at the right times?
If you're purchasing something from the brand, are they thorough during the actual sale process?
Do they follow up with you after the sale is closed to ensure customer satisfaction?
How long does it take to process an order for spares?
Do they provide after-hours support in an emergency?
Do they provide advice on how to improve performance?
Do you have direct access to shock technicians?
Seeing the timeline of how you're treated as a customer and how the business maintains a solid customer relationship is a good foundation point for choosing a racing shock brand.
4. Do They Stand By Their Products?
Building trust with whatever brand you choose starts with customer service but goes well beyond that and into how a brand conveys its products. Investigate the brand's customer satisfaction policy, not only regarding any warranty issues but if you have issues down the road getting the most from your investment. The best brands want to see you perform at your best.
5. Are They Active At The Race Track?
Some brands fly under the radar when it comes to showing up at the races and still offer quality products and performance. Others sponsor racing events or offer track support for racers. Know the kind of at-track support you'll need, if any, from the brand that you choose to purchase racing shocks from. Make sure to look into what events they will attend if that is something you need.
6. Does The Brand Have The Experience To Back Its Claims?
Experience is everything in any industry, and racing is no different. When deciding if a brand is a right fit for you, ask them how long they have been around and, in particular, how long they have been supporting the type of racing you are doing. It is crucial to work with a company that has "seen it all" so you are not left with a confused support team if you have an issue.
Another essential part is the company's breadth of experience across racing disciplines. It is absolutely vital that the company has experience supporting the type of racing/riding you are doing. But it's also a huge bonus if the company also supports other forms of motorsports. The knowledge, experience, and learnings gained across ALL racing disciplines often finds its way back into the product development process - making a company's products better across the board.
7. Do They Have The Positive Results You Want To Achieve?
It's always good to check if the company has had good results in your type of racing. Check out what the pros use. Investigate where the company plays and what results that their users are achieving. There is usually a reason for success, and shocks, as you know, play a significant role in it.
8. Do They Understand Your Goals And Expectations?
As a customer, you have every right to have a list of things you're looking for in a racing shock brand. You're investing time and money into finding what works best for you. If you have goals and expectations of a brand and product, don't compromise them.

A company will work hard to ensure the success of its customers and products (if it's the right company). They will go out of their way to help you get what you need, whether it's customer support, a product, or something else. They will help you achieve your goals and exceed your expectations, giving the ultimate customer and racing experience.
Selecting Your Racing Shock Brand
Whether you get the answers through interactions with brands, discussions with trusted contacts in your network, or independent research, these questions will ultimately guide you to work with a shock brand that will add reliability, stability, and success to your racing program.
If you're still not sure who to work with, you should speak to the shock experts at Penske Racing Shocks. Rather than buying a set of shocks configured to work for everyone, you will work directly with the team to begin the customized setup process BEFORE purchasing anything.
After you purchase your shocks and customize your setup, you'll receive continued support from the Penske team. To learn more about our S3 process (Shocks + Setup + Support), reach out to us here and get the ball rolling.