Racing Shocks in Times of Crisis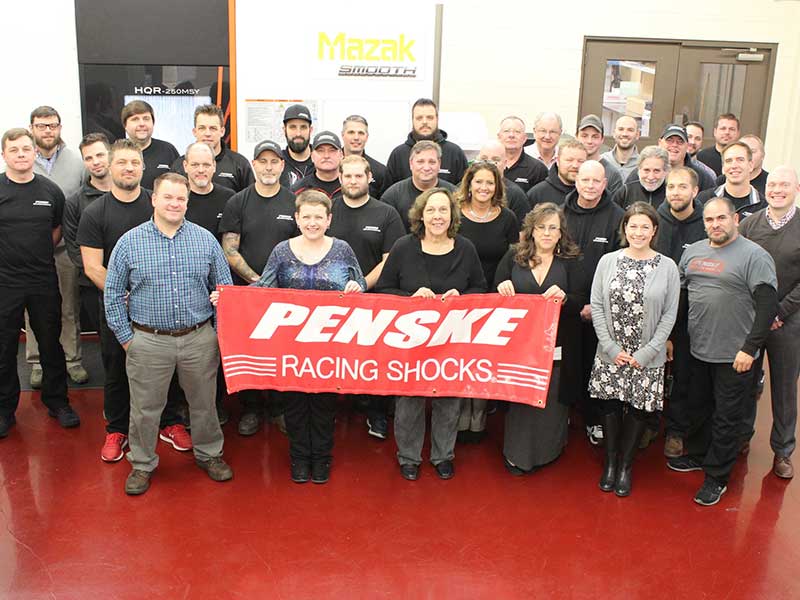 After the events of September 11, the world of motorsport, as with most of the world, paused. That morning started like any other Tuesday with our weekly staff meeting. Our president at that time, Dick Dimmig, was giving his normal financials review when our secretary apologetically entered the room to tell us a plane had crashed into the World Trade Center and there had been an explosion at the Pentagon.

We sat is disbelief for a few minutes until it became clear this was extremely serious. Our friends, spouses, and family members started ringing the office and our mobile phones and the meeting broke up. There was difficulty getting up-to-date information from the internet, so we set up the TV in our Reading, PA, parking lot and huddled up to watch the events unfold live.

A guy I had become friends with from the Penske Racing IndyCar team, Chris Leiphart, pulled into our parking lot in his yellow Audi S4 while we were all out there. He had recently started a job with Dallara in Italy (they were a major supplier of chassis for the IndyCar series) and was in town visiting family. He was completely unaware of what events had happened that morning. It is crazy to think that information was so much slower to receive back then.

Most of our employees were able to get back home as we generally returned from race support duties on Saturday evenings. But one of our employees, Glen Knabenshue, was supporting a test in California that week and was stranded on the West Coast when all domestic flights were grounded. He rented a car and made the 30-hour drive home. Knowing Glen, that was probably one hell of a road trip. Most outdoor arena domestic sporting events, including motorsport, were postponed or cancelled over those next few weeks while the world came to grip with what would become the new normal of heightened security.

My fondest memory in the midst of those dark events happened in Indianapolis where the Formula One series was holding the United States Grand Prix for the second year in a row. The race was to be held on September 30, and the promoters decided to push ahead with the event. I was there supporting our F1 team business along with my colleague, Nick Hughes.

We finished up our meetings in the paddock on Friday and headed through the tunnel and into the grandstands to join some of our other PRS colleagues to watch the first practice. I was overcome with pride in my country when an engine fired up and the first car rolled out onto the pitlane — a Jaguar F1 car with the American flag on its engine cover, adorned against a simple black background. One by one, the other team cars hit the pitlane with American flags on the car or driver's helmet. It became real to me that the world was with the U.S. during this tragedy.

Jaguar F1 2001 US Grand Prix livery
Here Comes the Flood
In June, 2006, the Schuylkill River, encouraged by weeks of rainfall, rose to flood-stage levels. Our shop is adjacent to the river, and we took measures to allow for some flooding. But a changing flood surge forced the opening of a flood gate to reduce water levels and sent water rushing toward our business and others. Our entire staff moved everything — shock dynos, computers, inventory, measuring equipment, anything that we could move — to our second floor. We convoyed our fleet of race support vehicles further into the city, and then followed an evacuation order.

I'd never felt so helpless in my life as water slowly engulfed our building on three sides. We grabbed last personal effects, killed the power and huddled up for a brief moment before going home.

The flood waters devastated the downtown area.

Penske Racing, the legendary IndyCar team, was just around the corner. The team had called Reading home since 1973 but was then planning to join its NASCAR and Sportscar operations in Mooresville, NC. The flood expedited their relocation.

We fared only slightly better. As our building stands 5 feet above the other buildings around us, we suffered more of a grazing wound than a direct blow and experienced about 10" of water in our building. That may not seem like a lot but we realized how quickly damage from water can occur. In less than 48 hours before the waters receded, every single wall in our first level that was not concrete block was damaged and already had mold forming. I was one of the first people to reenter the building after the police gave the all-clear. It was a site that I'll never forget. The sound of walking on saturated carpet, the smell of foul river water, and the site of dirt and debris strewn throughout our building was overwhelming. I began to wonder if we would recover from this. But, in true team fashion, we established a plan and got moving on the clean-up process immediately. We let the professionals from the disaster clean-up company mobilize and they were scrubbing down surfaces within hours. Big air ducting systems were moved in to help with mold spread and drying, and every inch of drywall and carpeted floor that touched water was torn out down to the studs and bare concrete. We knew it would be a long recovery and hunkered down. Our main race support vehicle was in Daytona that week for the NASCAR Pepsi 400 and we were able to start shipping parts to customers off the vehicle that very next day. We relocated engineering and administrative staff in the second floor computer lab while reconstruction work was underway downstairs. Our technicians set-up in our other race support vehicles in the parking lot and continued to take calls from and ship product to our customers. We continued to get parts from our suppliers and staged for assembly.

Through the entire ordeal, we did not let our customers down and maintained the highest level of support to keep the Motorsport world humming.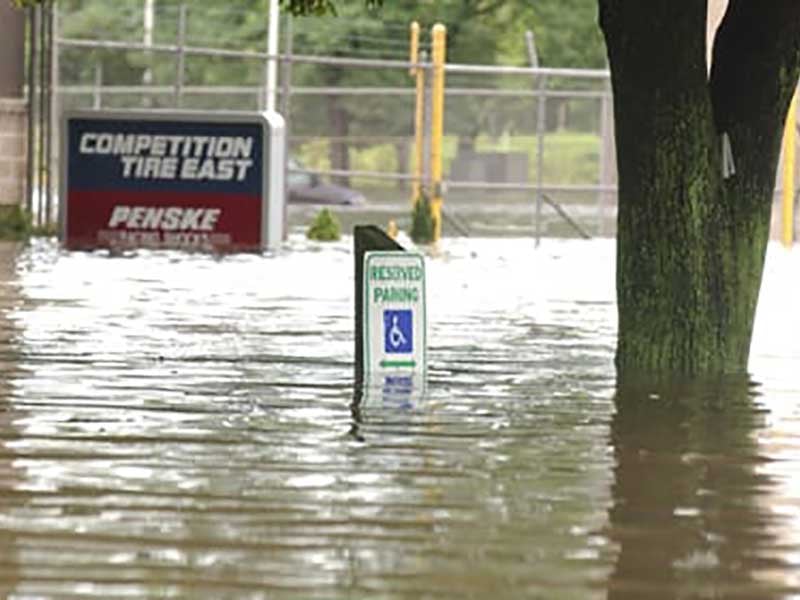 Penske Racing Shocks, June 27, 2006
And now, this.
In response to the 2020 coronavirus pandemic, Penske Racing Shocks is following the rest of the world and has taken large measures to keep our employees safe while maintaining customer support. Our engineering and administrative staff are just returning to the office after telecommuting for nearly 3 months. All along, our dedicated technicians were keeping things moving by building shocks in their home garages and in our mobile service vehicles. We continue to work closely with suppliers that have remained open and functional due to their essential business status. And Zoom and Microsoft Teams meetings have replaced physical meetings among our team members and customers for the foreseeable future, especially with our international clients.

We have been monitoring the situation across the globe on a daily basis, where our friends and partners are also facing life as racers during lockdown. For the first time, the most important topics discussed are the health and safety of family members and the over-under on when all forms of racing can get back to normal operations — and when a pint in a pub is something that we can return to enjoying.

It is hard to predict the long term effect this will have on the world of motorsport but we can only hope that everyone makes it out on the other side and we can return to doing what we do best. I know I will definitely enjoy the next time I hear a racecar engine firing up in person, a visceral experience I'll never take for granted again.

We assure you that in these strange days, Penske Racing Shocks continues to support our customers in any way possible. We have weathered many storms since 1987, and we'll get through this one too. It's in our DNA to solve problems and find solutions that keep our world-class customer support going in any condition.

This too shall pass. For now, be safe out there folks. We've got your back. We always have.
Tags: