Good Shocks Are Only Part of the Story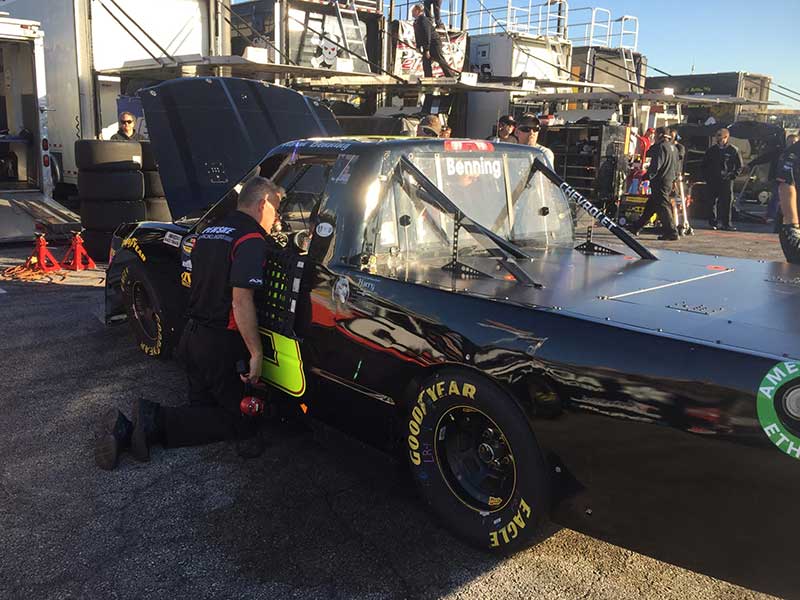 Our talented team not only knows what they are doing but has walked in your shoes
Worked as a shock technician on a Daytona 500 winning team
Grew up at the local dirt tracks and has been wrenching on sprint cars and modifieds for almost 50 years
Provided direct race support for a trophy truck competing in the Baja 1000
Served as a shock technician for Dale Earnhardt, Jr., capturing 2 NASCAR Busch Series championships
Supported pre-season Formula One tests at Jerez and conducted factory damper training for teams in the UK, Italy, and Switzerland
Provided factory race support at the 24 Hours of Le Mans for a championship winning team
Worked as a technician in the IndyCar shock department when Gil de Ferran set the standing closed course record of 241.428 mph at Fontana
These are just a few excerpts from the CVs of a handful of our technical support staff.

Here are some other numbers….Indy 500 rings. Our guys have 19 of them. For those of you who know, they don't give those out like youth soccer trophies. There is no prize for second place.

And here's another perhaps more impressive number. 732 years. That is the cumulative years of experience under our roofs in Reading, PA and Mooresville, NC. And this is not just work experience, it is specific experience working in one of only two places:
the shock absorber industry or
professional motorsport.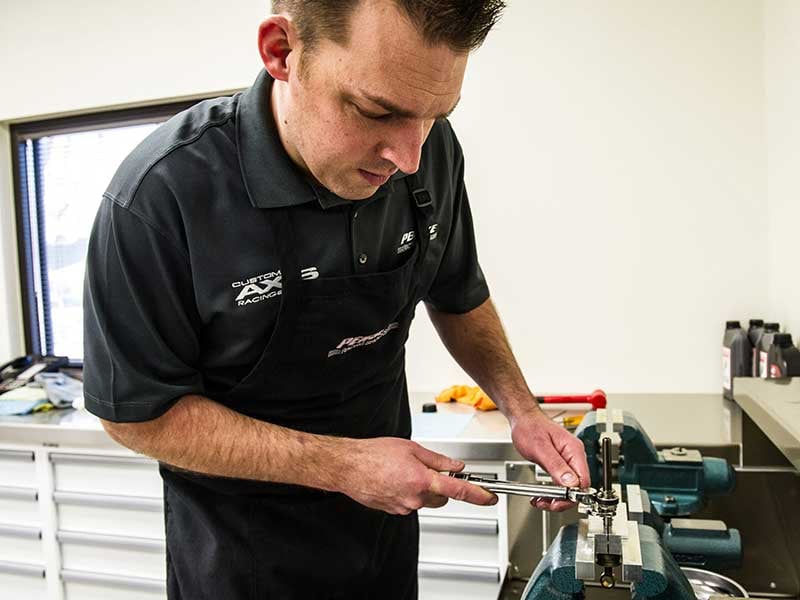 F1 Technician Matt MacDonough services a damper
That's it. Shocks and racing. This is what forms our backbone and the type of experience that our team possesses. A very wise man we know often references the phase "human capital" and how critical that is within his company. We have it, in abundance, and that is good thing for our customers.
When you purchase products from Penske Racing Shocks, you not only get a finely-crafted, meticulously-assembled, rigorously-tested item, held to the highest quality standard. You are getting that compassionate voice on the other end of the phone at 11:31 on a Saturday night to help you diagnose an ill-handling race car or the friendly face at the race track who makes absolutely sure you are getting the most from our products and who is profoundly curious that you are making gains in your program with better race runs and results, every week. You are getting access to an amazing team of racing professionals who are laser-focused on one thing – helping our customers win. This is what we do. It is all we do.
Results for our customers are what drive us. World records achieved on our shocks are what drive us. Word of mouth endorsements in the garages and pitlanes around the world provide the best marketing you can have. Having a reputation of being that company that does whatever it takes to get the job done is our source of motivation and fulfillment.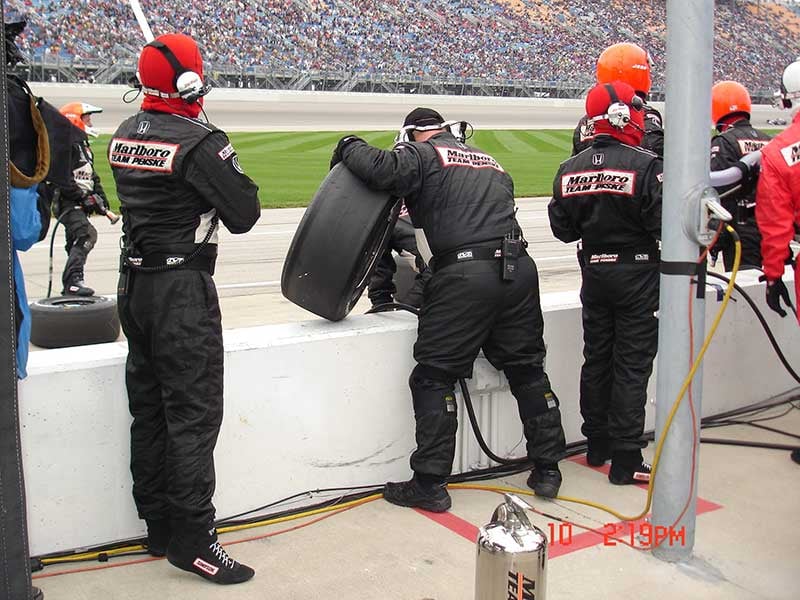 General Manager Aaron Lambert assists in a pitstop at Chicagoland Speedway
Penske Racing Shocks was born in racing (formed as a spin-off venture from Penske Racing's 1980's suspension skunkworks program) and it is made up entirely of racers. We have never been a marketing vehicle for a larger conglomerate to help sell high volumes of shocks for passenger cars. In all fairness, there is merit in that approach but it is not what we do. When you live and die from providing shocks to racing teams, your focus remains where it should….on creating the best products for the demands of racing and staying nimble enough to react to any situation and request.
The benefit to our customers is that our staff "gets it". We know how important it is for us to deliver what is needed to perform on track, on-time, without problems. It makes no difference if it is a Spec Racer Ford or a Formula One car. The urgency, the professionalism, and commitment to helping people extract the most from their suspensions and solve problems is the same. Also, being racers, we have walked in your shoes and bring perspective and insight that others may not.
…Burning our wrists on a glowing hot brake rotor when making a shock adjustment gives perspective on how to better package adjusters.
…Damaging a shock when it falls off a pit wall gives perspective on how to design parts to be more protected for the harsh racing environment.
…Frantically running around because we only had 15 minutes to rebuild a shock between 1st and 2nd practice has given perspective on making the shocks easy to service and adjust.
And it is not just our personal experiences – we take constant feedback from our customers to make improvements based on their experiences as well. As such, Penske Racing Shocks continues to win races and championships at the highest levels every single year since the company was founded in 1987.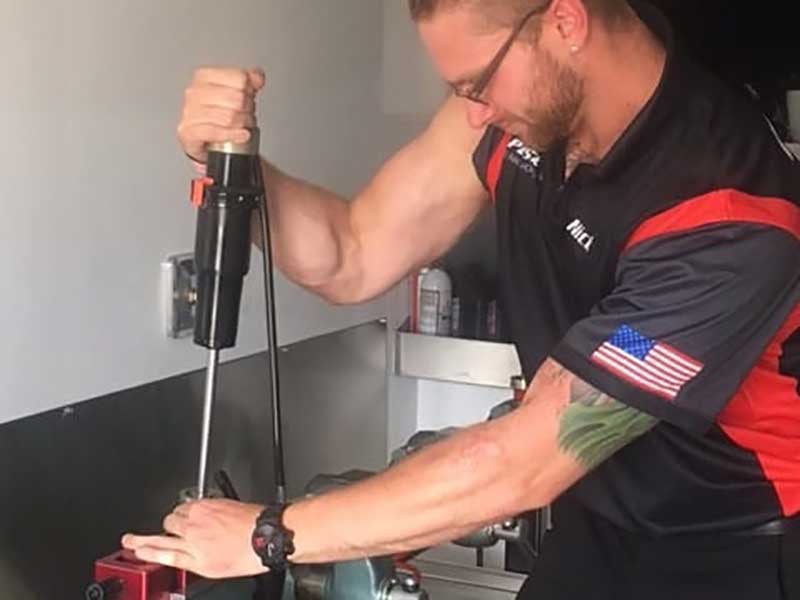 Late Model Technician Nick Stine rebuilds a shock in our mobile support trailer
If the first question you have is what our products cost, we may not the right shock company for you. However, if you are looking to partner with a group of passionate people with decades of experience in all forms of racing who will go above and beyond to insure you are getting the product and support you need to extract every ounce of performance and reach your goals, we (emphatically) are your company.
Join us.
Let's win, together.
Tags: