What are the Best Rear Shocks for Harley Davidson Touring Bikes?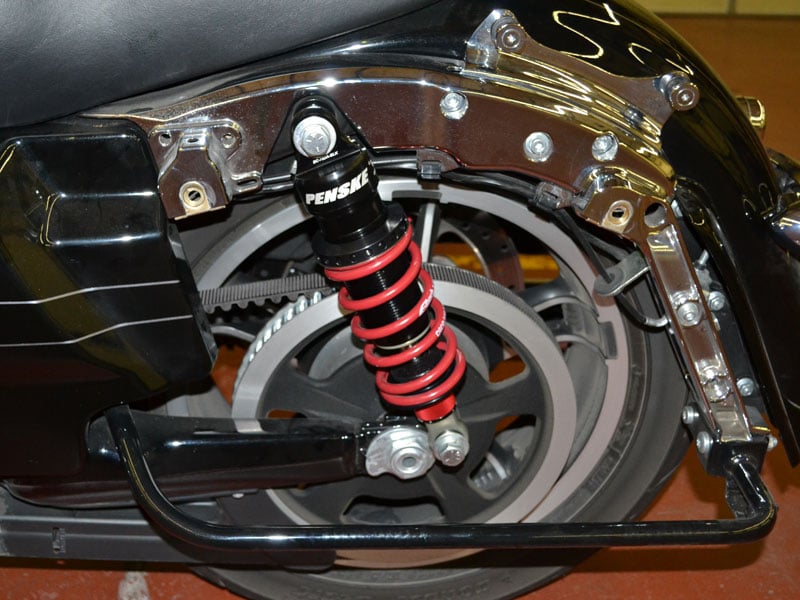 Upgrading the rear shocks on your Harley could be the difference between cruising without a care in the world and bruising your tailbone on a bump in the road. Stock shocks are likely designed for easy-going riders on smooth roads.
But if you feel a bit uneasy on short turns and struggle to pick up speed after turning, you're not alone. These are common problems with stock shocks. We're not saying there's anything wrong with stock shocks, and in fact, adjusting the preload of your shocks might make a difference to your ride.
However, touring bikes are designed for long distances. At some point, you're going to encounter rough and bumpy roads. The best rear shocks for your Harley Davidson touring bike will make for a more comfortable ride and take its performance to the next level.
The Best Rear Shocks For Your Harley Davidson Touring Bike
It's a relatively straightforward process to replace the stock shocks that come as standard on your Harley, and it can make a huge difference to ride quality.
With so many options on the market, how do you know which shocks to choose? Before we help you navigate the best rear shocks for your Harley, we'll take you through the factors that will influence ride quality and then highlight the features of the best shocks that will ultimately optimize your riding experience.
Check out our FREE, ON-DEMAND WEBINAR - Motorcycle Suspension: Spring Basics
Which Factors Affect Ride Quality?
There are a few factors to take into consideration before purchasing new shocks. Don't just go by appearance or cost. Taking the time to think about your ride habits and preferences will lead to a better purchase.
Comfort
Consider your comfort goals. For a touring motorcycle, long journeys might lead to discomfort, especially on rough roads. You and your passenger will want to feel supported. A passenger also means more weight, so make sure your shocks are equipped to handle the weight on them. There's also more risk of bottoming out, so make sure you discuss your plans with your shock supplier who may recommend a stiffer spring rate or different shock tune.
Your Height
Think about your height in relation to your bike. As you know, the seat is much lower on many touring and cruiser bikes, mainly because the engines are positioned in front of the rider.
Since riders differ in height, you need to consider how tall do you want your bike to be? Can you get on and off the bike and support it with your legs? You can read ride height numbers in a brochure, but ultimately, you need to sit on the bike and see if it's easy for both feet to touch the ground.
Control
Do you feel safe and in control of your bike when you accelerate, brake, and turn? And if you want to make changes, do your shocks allow you to make adjustments quickly and easily? The right shock gives you the ability to make adjustments when you need to, with minimal fuss.
Other Considerations
As well as ride quality, there are a couple of other metrics to consider.
Value
Many shocks are relatively affordable, and if you weigh up cost with the long-term benefits of adjustable shocks, it's a no-brainer. It's still worth shopping around.
When evaluating true value, think about customer satisfaction, the brand's reputation, and whether the shocks you purchase have a warranty. What do their customers say about them? Do they have a good reputation in the motorcycle world? In the shock business? What happens if something goes wrong? These are all questions you should be asking before investing in adjustable shocks. And, of course, what happens if something goes wrong.
Learn more about What Brand Of Racing Shocks Is Right For You.
Ease of Installation
If you're comfortable making changes to or performing minor repairs on your Harley, you should find it relatively easy to install shocks. It's worth reading reviews about how others found it. Do you need specialized tools? Does the company you're purchasing from help you install the shocks? Are they approachable if you have any issues? Are you comfortable making minor repairs on your Harley?
With all of these concerns and questions in mind, let's look at a few options on the market.
Based on reviews, these Progressive shocks are easy to install, and you can adjust preload by hand. They use FST (Frequency Sensing Technology), a feature that senses the frequency of bumps to adjust damping automatically.
They come with a 1" lowered ride height and are suitable for riders over 250lb or riders who frequently carry passengers, but they also have different weight configurations
What customers like: The comfortable ride.
"The ride is rock solid, and I float over the road ruts that used to jolt my teeth loose."
Progressive suspension carries a good reputation in the suspension field. These shocks are a significant investment but are great for heavier riders or those who carry a passenger regularly.
Ohlins are known in the shock industry for providing entry-level suspension.
These 13" shocks can be used in all Harley touring bikes apart from 2006-2014 Street Glides, which require a 12" shock.
They come with preload adjustability to adjust where your motorcycle suspension sits, and custom spring loading based on the rider's weight is a nice touch.
What customers like: Reliability and stability on the road.
"This shock will eat up both small and large imperfections in the road and keep the rear tire planted on the road."
These shocks are designed for the Harley Sportster 2004-2011 model. They're a combination of stubby shocks and dropped shock springs and are 10.5".
Again, you can enhance preload adjustment to align with different rider weights. Still, when carrying luggage or an extra passenger, it's worth bearing in mind that they have a 2" lowered ride height, which increases the risk of bottoming out.
Burly promises fast installation that can be done in minutes, and they are affordable at $200 - $250, but depending on who you buy them from will affect any warranty.
What customers say:
"I like the black-out look, so these fit my style. The ride is a little rougher, but that is the price you pay for a lowered bike."
These shocks are the newest product to this market.
Penske is held in high regard due to superior standards and 30+ years of experience in the shock absorber business. The name Heritage invokes this reputation for excellence and performance in the highest levels of motorsport.
They feature up to 2¼" ride height adjustment, and several length and stroke options are available depending on the application and installation requirements.
A bump rubber prevents abrupt bottoming.
The single damping adjustment with 45 clicks can be hand turned and affects both compression and rebound for overall control.
Also, spring preload adjustment with the provided tool makes your job easier.
Learn more here.
The Best Rear Shocks For YOUR Harley Davidson Touring Bike
All of the options above are great shocks. But the best shocks are the ones that suit YOUR height, riding style, and needs!
Working with Penske will provide you with unrivaled quality from Reading, PA. Hand-built to your specifications and fully dyno tested with attention to detail and means you know exactly what you're getting. Customization and the fact that the shocks are rebuildable means you're always maintaining the highest standards. To find out more about Penske Racing Shocks, get in touch with our shock specialists here.
Tags: