6 Things We All Hate About Rebuilding Racing Shocks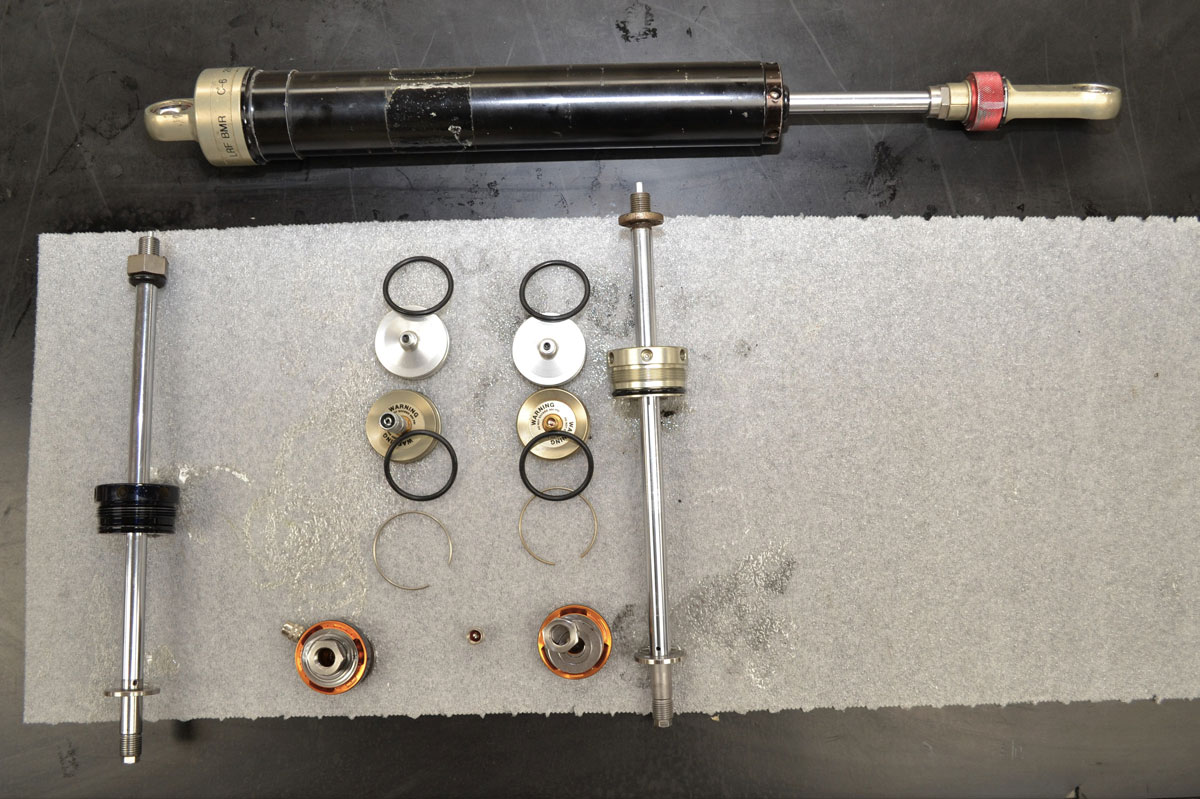 Skilled shock maintenance gives you the edge over your competition.
The best racers and riders all understand one simple concept - improving your performance takes a lot of effort, and every tenth of a second gained comes from years of toil and fine-tuning.
You might be wondering when you need a shock rebuild. Further, you might be thinking about doing it yourself. If you've got the knowledge and workspace, there's no reason you can't. But before you do, consider what's involved.
It might be better to send your shocks to skilled and experienced technicians, and there are best practices to follow when you do.
Rebuilding Racing Shocks: 6 Things We All Hate
Did you know that a shock rebuild includes a dyno run before disassembly to confirm functionality and a deep clean of all main components? How about that it also includes new shims, seals, and oil? And that rebuilding shocks boosts performance and ensures their longevity? Sounding better, right?
We cannot stress enough how critical it is to stay on top of your shock maintenance before it's too late, as your shocks take a lot of wear and tear in high-performance use. If you don't stay on top of them, your handling, ride, tire grip, and even safety can be at risk.
But, even with good shock maintenance, sometimes the best option is to do a proper racing shock rebuild. Anyone who has done this knows that this is sometimes easier said than done.
Here are six things we all hate about rebuilding racing shocks.
1. Dirty Shocks
As a leading racing shock manufacturer, we service thousands of shocks annually. One of the most common complaints from our shock specialists is when shocks arrive covered in mud and grime.
Beyond the obvious that no one wants to get dirtier than they have to, we recommend as a best practice for both shock service and your regular maintenance to take the time to clean your shocks properly before sending them out for a rebuild.
Luckily, it doesn't take that long to do. Cleaning your shocks is an important step in regular shock maintenance as dirty shocks quickly become nicked and worn, causing shocks to wear and fade, making them less effective.
Be careful if using a pressure washer when cleaning.

We have seen too often that a pressure washer used directly on the exposed sealing areas can allow water to enter the shocks, and this can cause all kinds of issues. It's recommended to not directly spray your shocks with a pressure washer. We recommend removing them and using a solvent tank, bucket of soapy water, or a simple household hose nozzle.
Take a few minutes to clean them before sending them to us. If you don't, we might have to charge cleaning fees. We hate doing this, and we would prefer you save your money for actually upgrading your shock components – plus, clean shocks are important!
2. Springs Still On The Shocks
We highly recommend removing the springs from your shocks if you can do it safely, as it takes longer to service shocks when the springs are still attached. Not to mention, removing them saves you money in shipping charges.
However, compression springs contain tremendous energy and can be dangerous to remove.
This is why we stress the importance of having the proper tools on hand.
3. Not Having The Right Tools
Shock absorbers are tuned to withstand immense pressure, but they can still fail or be damaged when installed incorrectly. It's critical to have the right tools. We so often receive shocks that have been worked on with improper tools, and these shocks often show stress and metal fatigue, scratches, and leaks.
Shock and strut installation tool kits are readily available. They include specially engineered sockets that allow you to install shock absorbers without spinning the piston rod or incurring damage by gripping it the wrong way.
Even worse is when we hear that someone got hurt attempting to do the work themselves. Don't hurt yourself, and don't damage your important investment.
Have the right tools—but if you don't have them, just send them to us and let us do the work for you.
Looking to send your shocks in for service? Learn more and find our Shock Service Request Form here.
4. The Shocks Don't Match
Is there anything more frustrating than finding a curve you like but not figuring out why you can't get shock #2 to match your first? You try everything, but the settings don't match (more than a few clicks).
It can be so hard to diagnose. It could be a piece of debris, a bent shim, or a torn O-ring. It could be anything.
We recommend calling your shock supplier and sharing your dyno graphs with them to help you pin down the problem.
Try not to get frustrated. If your shocks aren't matching, something is wrong. We see that often less experienced builders will just get it "close enough." Depending on the issue, this can cause handling and feel issues that you don't want to have to adjust other settings on the car to compensate for. This can lead to a long list of headaches.
5. Can't Get The Air Bubbles Out
Do you ever feel like removing air bubbles trapped in the build is impossible? This task can leave anyone feeling baffled and infuriated without a vacuum bleeder.
It's important to note that if you continue to get air bubbles, this could mean you have a sealing issue – we see this a lot.

A properly sealed shock should be able to get the majority of the air out, meaning when you manually displace the shaft assembly, it has a solid feel, and you get no air bubbles when doing this. If you constantly are getting bubbles while you're displacing the shaft, remove and see if you're getting air bubbles coming to the surface of the oil. This indicates a leaking seal.
Here are some tips for tackling this thorny problem:
Consider opening the adjusters before taking the shock apart to avoid needles getting stuck.
When bleeding, open and close the canister adjusters to dislodge the air from the shock reservoir.
If those tips do not work, we recommend you reach out to your shock company for recommendations on how best to clear out your shocks. You could also consider looking into a shock build class to learn more about the pro tips you will need to service your own shocks confidently.
6. The "Workshop" Hinders The Work
Anyone who has ever been at the track with a racing shock issue will tell you how inconvenient it is to work there instead of working in their fully functional workshop. There's never enough space, and keeping things organized can be a challenge, never mind the shock rebuild!
But being in the transporter, or working out of your trailer, doesn't have to prevent your work if you plan it out.
Before starting your rebuild, we recommend that you always begin by cleaning and organizing your workspace to the best of your ability and ensuring you have everything you need before you start. This will allow you more space to do the job correctly and all of your tools in place before the "fun" begins.
Our most significant sanity-saving recommendation is to label your shocks clearly so you know what corner and what set they are to avoid confusion when you're deep in your work. You'll thank us later if you always follow that tip.
Hungry for more knowledge? Check out our S3 Resources Center!

We offer resources to assist you including our blog, free downloadable guides on Dyno Graphs, Bleed Shim Equivalence Chart, Damper Tuning, Shock Build & Lap Time Worksheet, webinars, as well our manuals, parts diagram, tech sheets, racing shock specs, service applications, flyers, and price lists.
How To Love Doing A Shock Rebuild
Shock maintenance is often overlooked, but we believe it gives you the edge over your competition and sets you up for success on race day. If you follow these six best practices, you should be on your way to better racing shock maintenance and performance.
Not ready to handle it on your own? Bring in the experts. With over three decades of experience in racing shocks, our Penske Racing Shocks specialists have a wealth of expertise to fall back on for virtually any shock build imaginable.
We learned long ago that no two drivers or riders are the same. So, we developed the S3 Process to service our customers' unique challenges. The Penske Shocks S3 Program combines the right hardware for your application, personalized shock setup, and the backend support needed to reinforce your relentless passion and pursuit always to be better. Get started today!